Vibration, Shock and Noise Control Products from Vibracan inc
Vibracan Group inc is a market leader in the industrial vibration, shock and noise Control products manufacturing. Vibracan Group Inc., headquartered in Montreal, Canada, is a premier supplier of engineered Mechanical Shock Absorbers, Vibration Isolation Products, Noise Attenuation Products as well as Deceleration Devices and products for Hydraulic/Pneumatic Actuation and Motion Control applications.
We are suppliers of a high-quality selection of vibration isolation washers and bushings that are used to eliminate metal-to-metal contact, and break the vibration or shock transmission path. Made from rubber, and capable of withstanding loads of up to 12,000psi, our isolation washers and bushings can be die-cut to any outside or inside diameter required. They are typically used in conjunction with pads, where the reduction of impact shock or isolation of transmitted vibration is required. Our products can be found in use throughout United States and Canadian market. Our popular products includes Anti – Vibration Waffle Pads, Rubber Cork Pads, Steel Rubber Pads, Spring Mounts and Isolators, Spring Hangers and Rubber Shear Mounts Hangers

Spring Hangers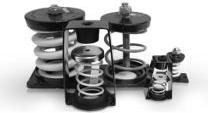 The function of spring hangers is to absorb vibration & vibration related noise of Fans, Fan coil Units, Ducts & Pipes etc. The vibration absorber by spring Hangers will be better if you use higher defection springs like 2". The efficiency goes over 90%.

Shear Hangers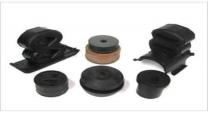 Vibration Isolation Hangers are designed to reduce the transmission of vibration and noise produced by suspended equipment. Shear Hangers incorporate a color-coded elastomer-in-shear insert with a load plate, assembled into a stamped or welded hanger bracket.

Waffle Pads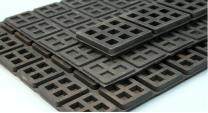 Anti-vibration Waffle Pads are an inexpensive, simple way to effectively isolate vibration and shock as well as reducing noise levels. The pads will provide maximum resilience and a creep proof grip for the installation of common shop machinery and equipment.